Android 14 rumored release date and expected features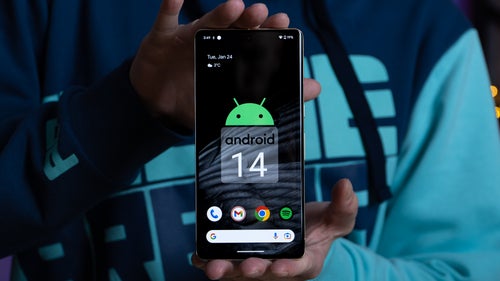 Google's next major version of Android, Android 14, is about to make 2023 a whole lot more exciting for Android fans.

Taking on the reins off of
Android 13
, the very first preview of Android 14 was released in early February 2023, giving us a very early sneak peak at the upcoming features in the operating system. It didn't include many user-oriented changes, as the majority of new functionalities lie under the hood.
As Android 13 was a quality-of-life software update that ironed many kinks and improved the overall experience, we initially expected that Android 14 could shake things up and add tons of new features and functionalities, similarly to what Android 12 did all the way back in 2021. However, judging from the very first preview, Android 14 could be more of the same, which is not explicitly a bad thing.
In this hub, we will be summarizing everything there is to know about Android 14, including current and expected features, supported devices, and so on.
Android 14 anticipated release date
Android 14 will release to the public sometime in August 2023.

Currently, as of March 2023, Android 14 exist as a developer-oriented beta that's not intended for regular people and shouldn't be used as a daily driver on a personal device. A user-friendly public beta with more user-centric features is coming in April, and a steady stream of beta updates will roll out to Pixel phones following up to the official release of Android 14 this very August.


Android 14's upcoming release timeline
In recent years,
Google
established a rather predictable release schedule for its annual Android releases. Initially, we get an early developer beta early in the year, usually in February or March, followed by a full announcement at the upcoming Google I/O developer summit later in the spring, followed by an official full release of the software to all eligible Pixel devices in the summer. In the coming months, all eyes are on the major phone manufacturers, which push the latest Android release to their custom manufacturer-specific Android overlays. So far, it seems as if Android 14 will follow the same template.
Android 14 current version
The first developer beta of Android 14 was released in early February 2023, giving developers opportunity to work with the upcoming Android release, prepare their apps accordingly and update them ahead of time.

In March 2023, Google released the second developer beta of Android 14, which contained further under-the-hood improvements to the operating system and laid the underlying groundwork for more features and functionalities.

Android 14 features, current, rumored, and upcoming

Initial impressions

At its current state, Android 14 is merely a placeholder OS for any future functionalities and new features that Google will certainly add later on. There aren't many user-oriented new features included with the initial developer-centric build that's out right now, and for the most part, everything looks and feels as it's Android 13 with an updated version number.




Battery life and performance
Android 14 will enhance the mobile OS system's overall efficiency and offer less of a power draw from unnecessary activities by combining background process optimization and presenting actionable requests to applications only when they are out of a cached state.

Additionally, without the user's express consent, apps that don't need a strict timing schedule, such as clocks, calendars, or the like, won't be able to continuously probe for resources by setting precise alarms, which should increase the efficiency.
Google is also applying stricter rules on how foreground services should be used, prioritizing these for only the highest priority tasks run on a device. This could potentially improve both the performance and efficiency of the Android system.

Improved customization
Unraveled code hints at Android 14 scoring a new Live Wallpaper support for the lock screen. Basically, this could allow you to set a live wallpaper on your lock screen. This would further improve Android's reinvigorated lock screen customization effort.

Better accessibility

Android 14 introduces a nifty accessibility features that will allow fonts to scale non-linearly, allowing for much larger magnification of the displayed text. From a maximum of 130% before all the way up to 200%, the Android 14 release will be much more accessible to users with visual impairments. With phones getting larger but text not following suit, such an option baked into Android makes a lot of sense, and hopefully, many will be able to benefit from the change.

It's important to note that doesn't just boost the Android 14 font size in a way worthy of the best phones for seniors ranking, but rather applies smart "non-linear" scaling to grow text with fonts already large enough less than the smaller text that gets an increase in size. Google says that
"Android supports font scaling up to 200%, providing low-vision users with additional accessibility options that align with Web Content Accessibility Guidelines (WCAG)".
Grammatical changes

With Android 14, several foreign language optimizations address the device accessibility department by adapting the text to reflect non-English speaking peculiarities such as personalized translations accounting for the grammatical genders that exist in other languages.

Another great locale adaptation addition to Android 14 is the ability to dynamically update the set of foreign languages in an app's settings to display what reflects the region and even customize the keyboard based on the interface language that the app is shown in.


Security and privacy

Down on the system level, Android 14 will include several new malware-fighting features that plug known exploits by blocking app installations or only allow them if they meet certain criteria. The most important one is the targeted SDK that the app declares: if it's too old, the app simply won't be installed on the phone. This could potentially prevent wrongdoers for exploiting loopholes by targeting older Android SDKs.





In particular, Android 6 has been chosen as the threshold beneath which apps will no longer be install-able on a modern Android phone. The reason for this decision has a lot to make with the runtime permissions that this specific Android version introduced. Apps that, for example, target Android 5.1 or older, simply wouldn't be able to make it your phone's app drawer, provided that it runs Android 14.





A very important new change is enhanced PIN privacy. This feature will turn off keypad animations when you're inputting your PIN code so that eagle-eyed wrong-doers snooping over your shoulder won't be able to guess your PIN code.





Another improvement in the security section concerns dynamically loaded applications. These can be changed (with malicious intent) by injecting code in the process and will be marked to be read-only in Android 14 in order to close another door for the installation of malware and various exploits that wrongdoers usually utilize.




Android 14 will also support Passkeys, a significantly more convenient biometric-powered replacement to passwords. With an enrolled passkey, users will be able to easily sign onto any device with just a swipe.




Android 14 naming scheme
Android 14 is internally known as Upside-Down Cake, but the official naming will most certainly remain Android 14.
After a brief hiatus, we're back with the sweet dessert names for Android, at least in terms of codenames. The naming scheme dates back more than a decade and uses dessert names in alphabetical order. Android 13 was internally known as "Tiramisu", named after the exceptional Italian dessert, and Android 14 uses a dessert starting with the letter "U" as a codename.

Which phones will receive Android 14?
As usual, the upcoming major Android software update will arrive to a whole host of yet-to-be-released flagship phones from all the heavy-hitters, like Samsung, Xiaomi, Sony, Motorola, OnePlus, and others. In particular, we expect the following devices to be at the forefront of the Android 14 rollout in 2023:
Of course, Android 14 can currently be flashed on a plethora of Pixel devices, like the Pixel 7 Pro, Pixel 7, Pixel 6 Pro, Pixel 6, Pixel 5, Pixel 5a 5G, and the Pixel 4a 5G.. Interestingly, the regular Google Pixel 4a isn't compatible with this version of Android.