Quest 3 vs Quest 2: Should you wait for Meta's next VR headset?
2
We may earn a commission if you make a purchase from the links on this page.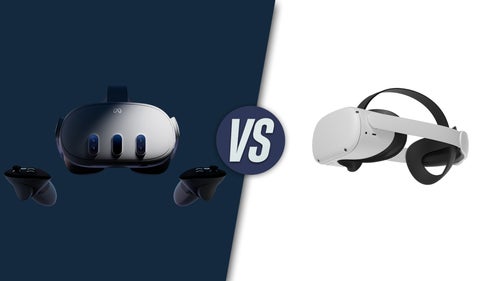 The
Meta Quest 3
release date is closing in, and naturally VR fans may wonder whether it will be bringing significant improvements over its predecessor - the widely popular
Quest 2
- and what those may be.
While the Quest 3 is yet to become officially unveiled, we have plenty of information about it already, so it's time for an early comparison. Stay tuned for the full one later on!
Quest 3 vs Quest 2 differences in a nutshell:
Higher display resolution on the Quest 3
120Hz refresh rate by default on the Quest 3
2 extra cameras and a depth sensor on the Quest 3
Faster processor and more RAM (12GB) on the Quest 3
Double the storage on the Quest 3
Color passthrough and new mixed reality features on the Quest 3
The Quest 3 will be thinner and lighter
Different controllers, more compact on the Quest 3
New connector for docked charging on the Quest 3
Release date and price
Meta is expected to make the Quest 3 official at the company's Connect 2023 event in October, although this hasn't been confirmed yet. All Meta has officially revealed is a 2023 release, but the date is yet up for speculation.

As for its price, the Quest 3 could be getting a bit more expensive than its predecessor. Previously Meta CEO Mark Zuckerberg has said that the VR headset will likely be in a "price range of $300, $400, or $500, that zone". So at best, we can expect it to be around $400, just like the Quest 2, and at worst, it may be getting $100 more expensive. Stay tuned for updates on the price, as soon as more information comes out!
The Meta Quest 2 (formerly Oculus Quest 2) was released back in 2020, on October 13. Its price starts at $399.99 for the base 128GB model, going up to $499.99 for the 256GB storage model. However, the 256GB model has recently been discounted to $429.99; check out
the best Meta Quest 2 deals
for more info on that.
Design and head strap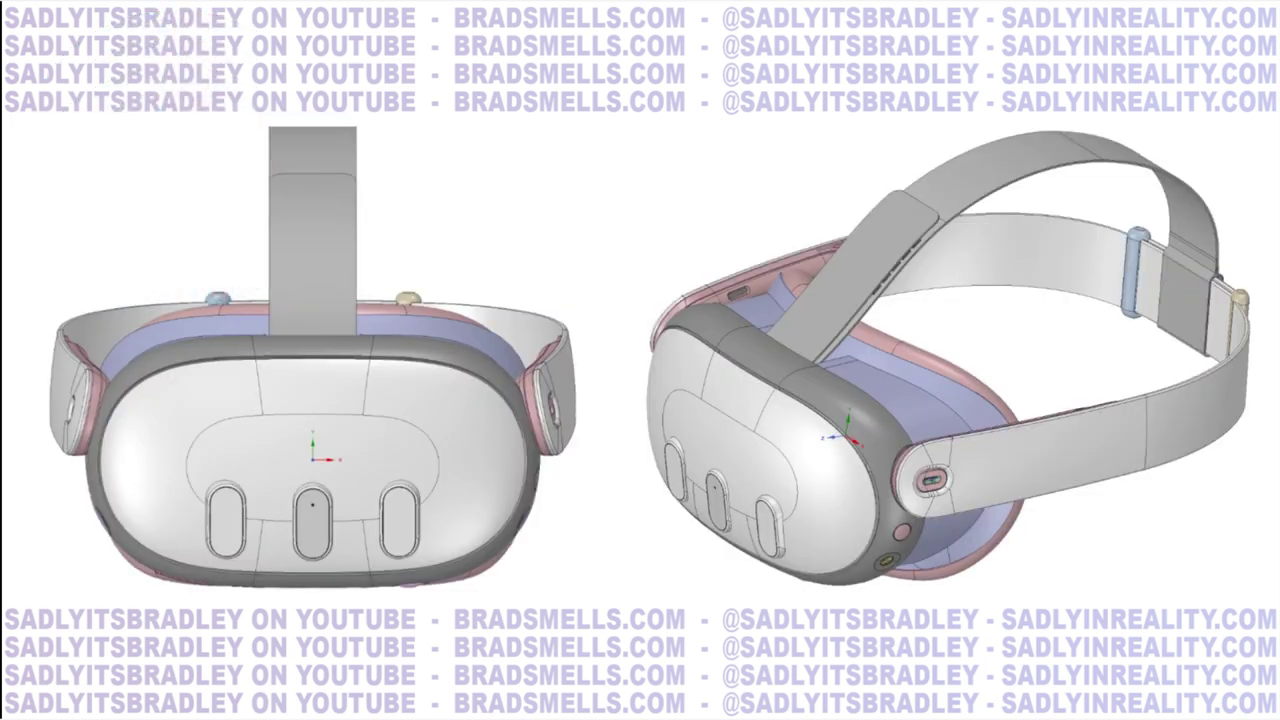 Alleged leaked Quest 3 design renders, courtesy of YouTuber SadlyItsBradley
The Meta Quest 3 is shaping up to be quite different in the smaller details than its predecessor, while retaining the ski goggles look. The head straps remains very similar - thin, adjustable, with Velcro strips at the ends the overhead strap.
However, the Quest 3 headset itself has supposedly gotten thinner and lighter, plus now has a depth sensor, 6 cameras as opposed to 4, and three signature, pill-shaped elements at the center. The face cover appears to have been changed also, now looking more akin to a (potentially less skin-irritating) foam one.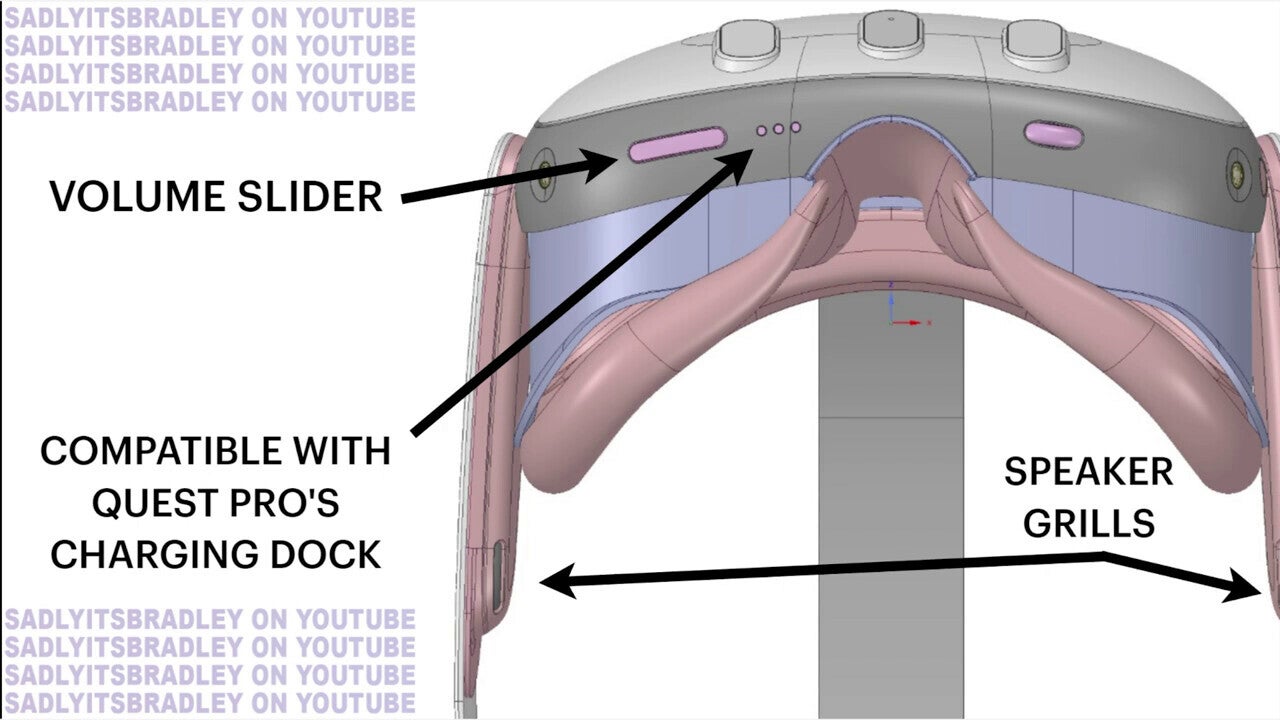 On its bottom side, the Quest 3 also appears to have a dock connector, possibly compatible with the Meta Quest Pro's charging dock, although we can reasonably expect the Quest 3 to get its own dock also. This would make charging it a lot more easy and convenient, as users can have a dock near their nightstand and simply place the headset on it to charge, as opposed to reaching for cables and fishing for the tiny USB Type-C plug. However, that one would also remain available.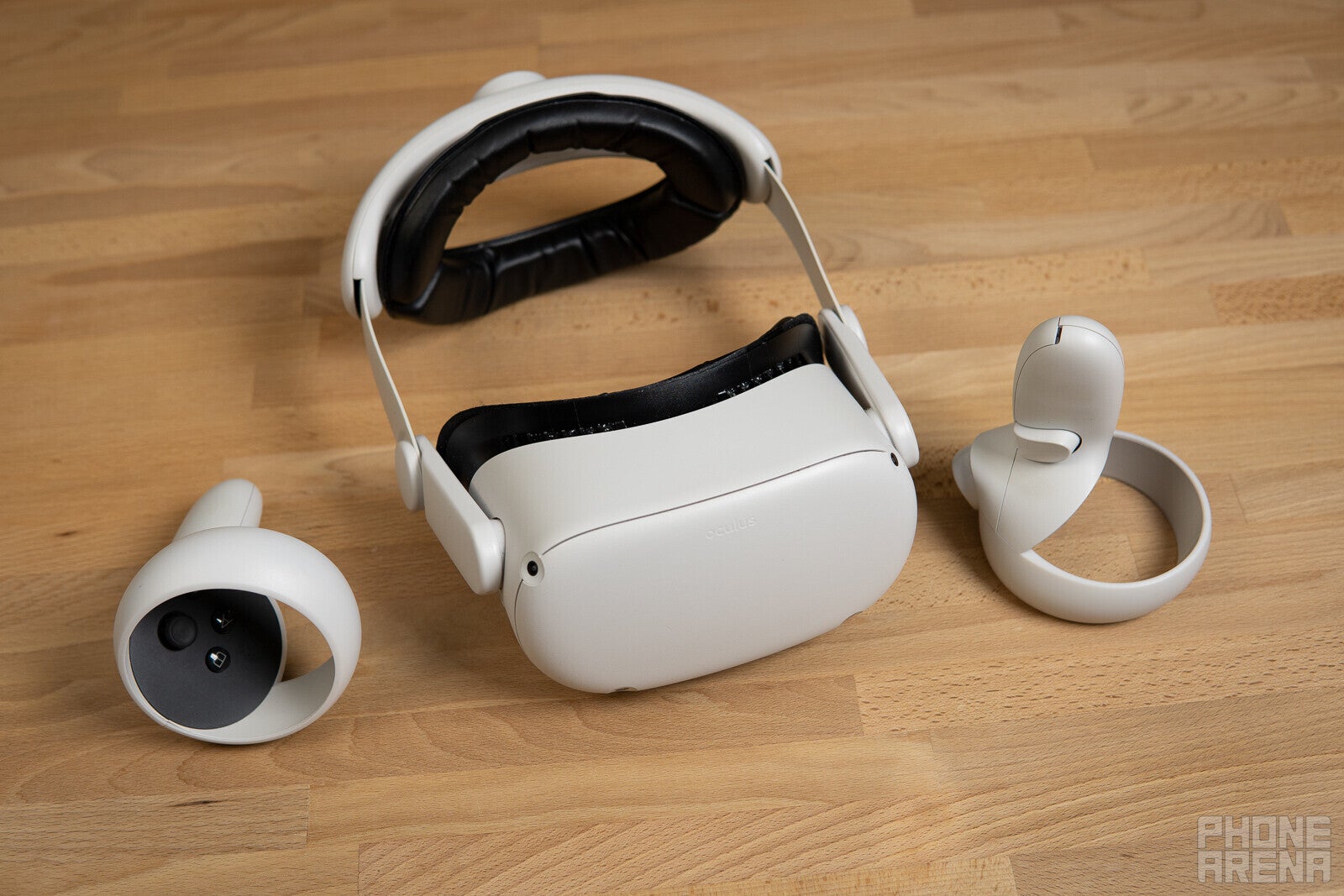 Meta Quest 2 with a Kiwi Elite Strap
As for the Meta Quest 2, that one is starting to look a lot more clean and minimalist in comparison. Its design is all plastic (the good kind, not the cheap kind), and it weighs around 500 grams when strapped to the user's face. It's not exactly heavy, but there's definitely room for making it lighter and more comfortable for long-term VR sessions.
It does not have a charging dock on the bottom, like the Quest 3 will, but it does feature a USB Type-C port, as well as all the other elements the two headsets will share - volume keys, a power key, two stereo speakers, and cameras. Only 4 on the Quest 2, though, and no depth sensor either.
Overall, while it may seem a bit bland to some, the minimalist design of the Quest 2 has been fantastic, and holds up reasonably well even close to 3 years later. Here's hoping the Quest 3 will be even more durable.
Display and IPD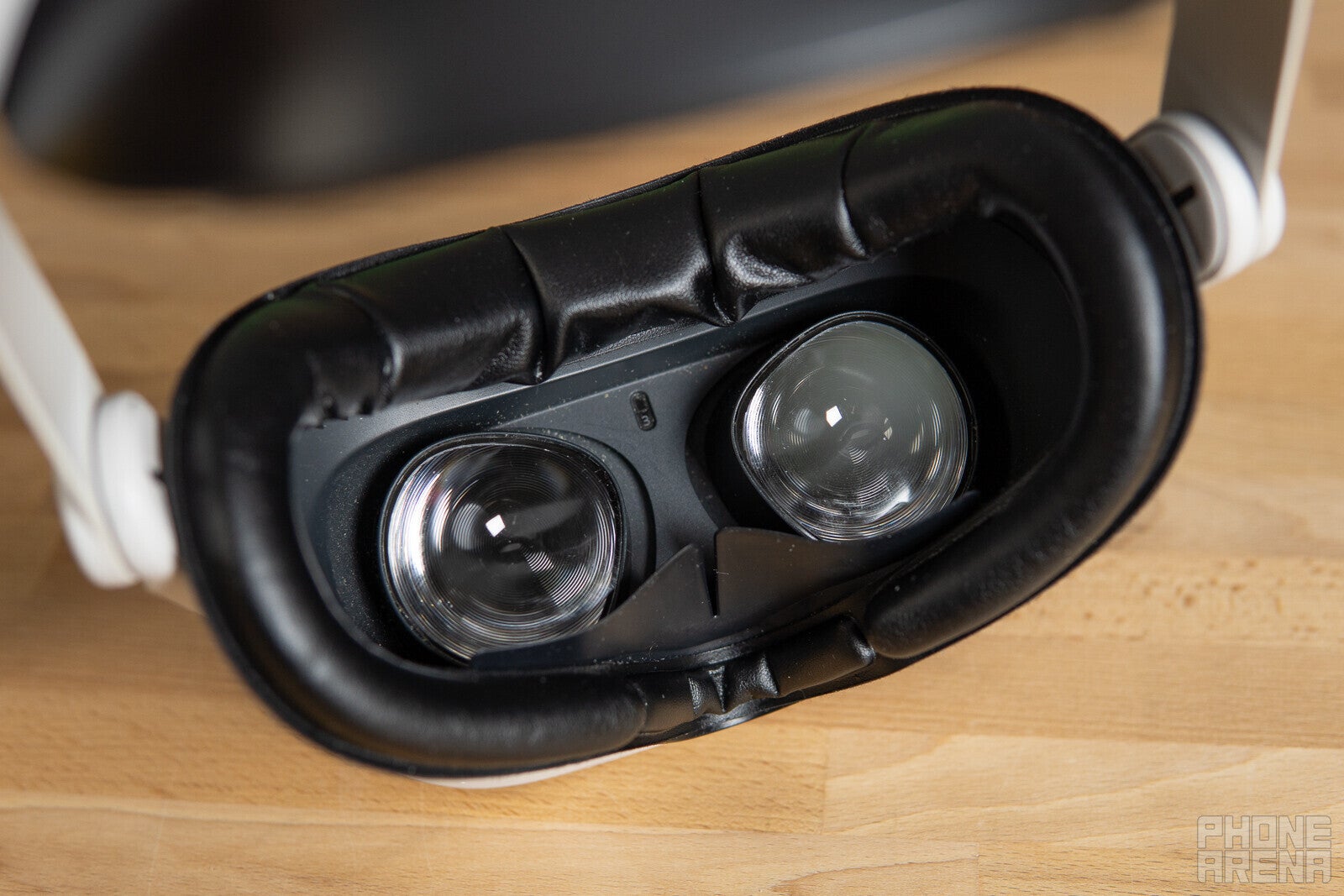 The Quest 2 can switch between three IPD modes
Good news for Quest fans - it's been reported numerous times that the Quest 3 will feature notable display improvements over the Quest 2.
We expect that the Quest 3's display resolution will be 4128-by-2208 pixels, which is quite a bit higher than its predecessor's 3664-by-1920 (or 1832-by-1920 pixels per eye).
The Quest 3 may also have a default refresh rate of 120Hz, whereas the Quest 2 launched at 72Hz and eventually also got 120Hz via a software update, but 120Hz remains available only for a few supported apps.
From what we know so far, the Quest 3 will have a more intricate method of fine-tuning the IPD (Inter Pupillary Distance), using an IPD adjustment wheel located on the bottom left side of the headset. Whereas the Quest 2's IPD can be adjusted by snapping its lenses into 3 different fixed positions.
Speaking of the IPD, we can reasonably hope that the Quest 3 will support a higher IPD range than the Quest 2's 58-68 mm, but for now, we don't have any official information on reliable leaks to confirm it.
Performance and software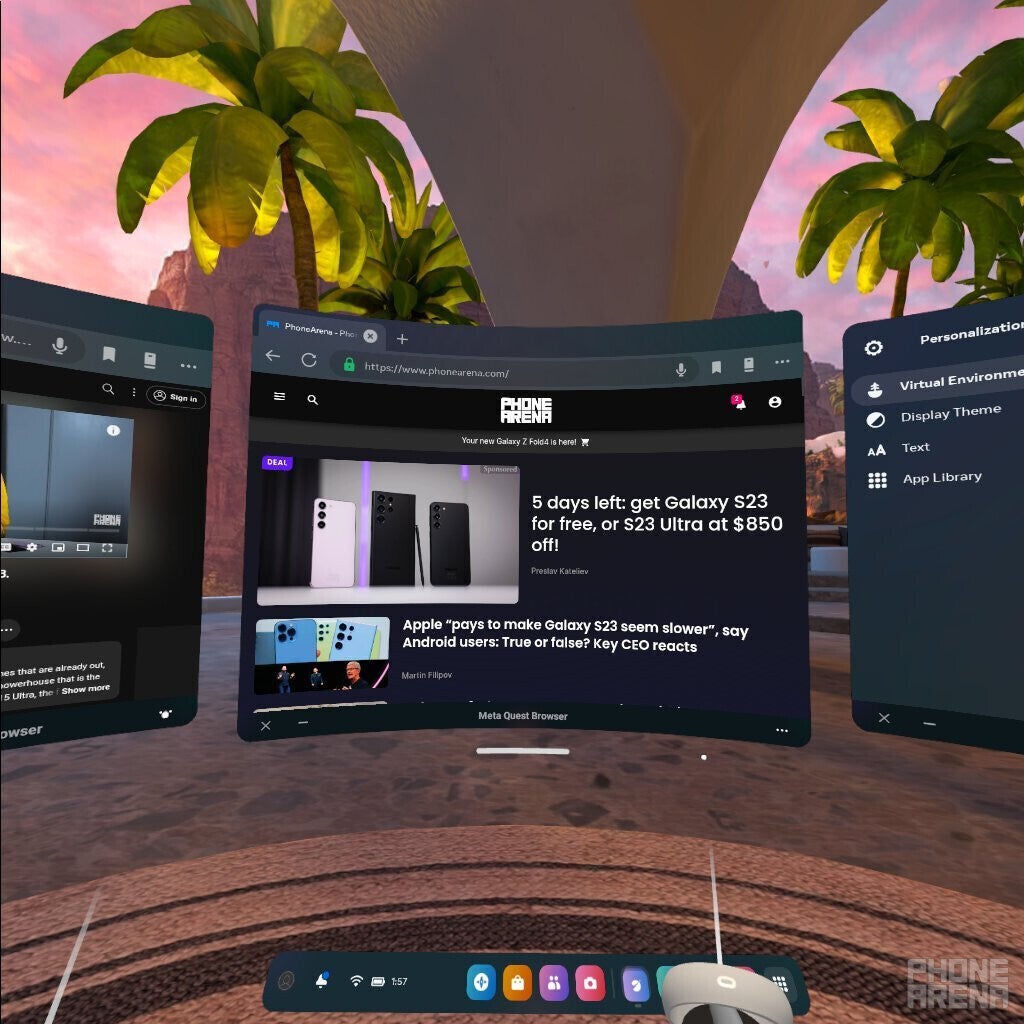 Web browsing and multitasking on the Quest 2
The Quest 3 will definitely perform better than the Quest 2, as it will feature a newer Snapdragon XR2 Gen 2 processor and 12GB of RAM, as opposed to only 6GB on the Quest 2. More RAM means quicker app management, being able to keep more apps running in the background, and thus - even better multitasking. To be fair, though, the Quest 2 is already a champ when it comes to loading games quickly or multi-window multitasking, and hasn't really showed any signs of struggling to keep up.
On the software side, it's almost certain that the Quest 3 will be running identical software, with an identical user interface, as its predecessor; again based on Android. But while the Quest 2's software is based on Android 10's source code, the Quest 3's software may have been updated to run Android 11 or 12. Regardless, none of that has any bearing on the user experience, so we won't be going into it.
Ultimately, we can expect the exact same experience (but quicker and smoother, both due to the higher specs of the Quest 3 and potentially-120Hz default refresh rate). In addition, the two headsets will very likely support the exact same library of games and apps, available for purchase or free download on the Oculus Quest Store.
Passthrough, AirLink and other features
Fans of passthrough, which lets you see the world around you while using your Quest, will be happy to know that the Quest 3 appears to have color passthrough! For those who don't know, passthrough on the older Quest 2 is in grainy monochrome, so there was definitely room for improvement there.
And since passthrough essentially turns the Quest into an AR (augmented reality) headset, and not only that, but the Quest 3 will have a depth sensor especially for yet-to-be-announced mixed reality features, we can reasonably expect to be able to do some exciting new things with it. While remaining a VR headset at its core, the Quest 3 will clearly get a stronger push towards mixed reality.
As for many people's top favorite Quest feature - AirLink - it will return on the Quest 3, and could be more reliable than on the Quest 2, due to the former potentially having faster Wi-Fi speeds. In addition to AirLink, the wired Quest Link, which requires a special (and expensive) Link Cable, will also remain an option for those who wish to use their Quest for PC VR gaming, not just as a standalone VR headset.
Again, the most exciting new features we can expect for the Quest 3 are likely going to be mixed reality-related, so stay tuned for updates! And for anyone wondering - nope, the Quest 3 will not get eye tracking, like the Quest Pro has.
Controllers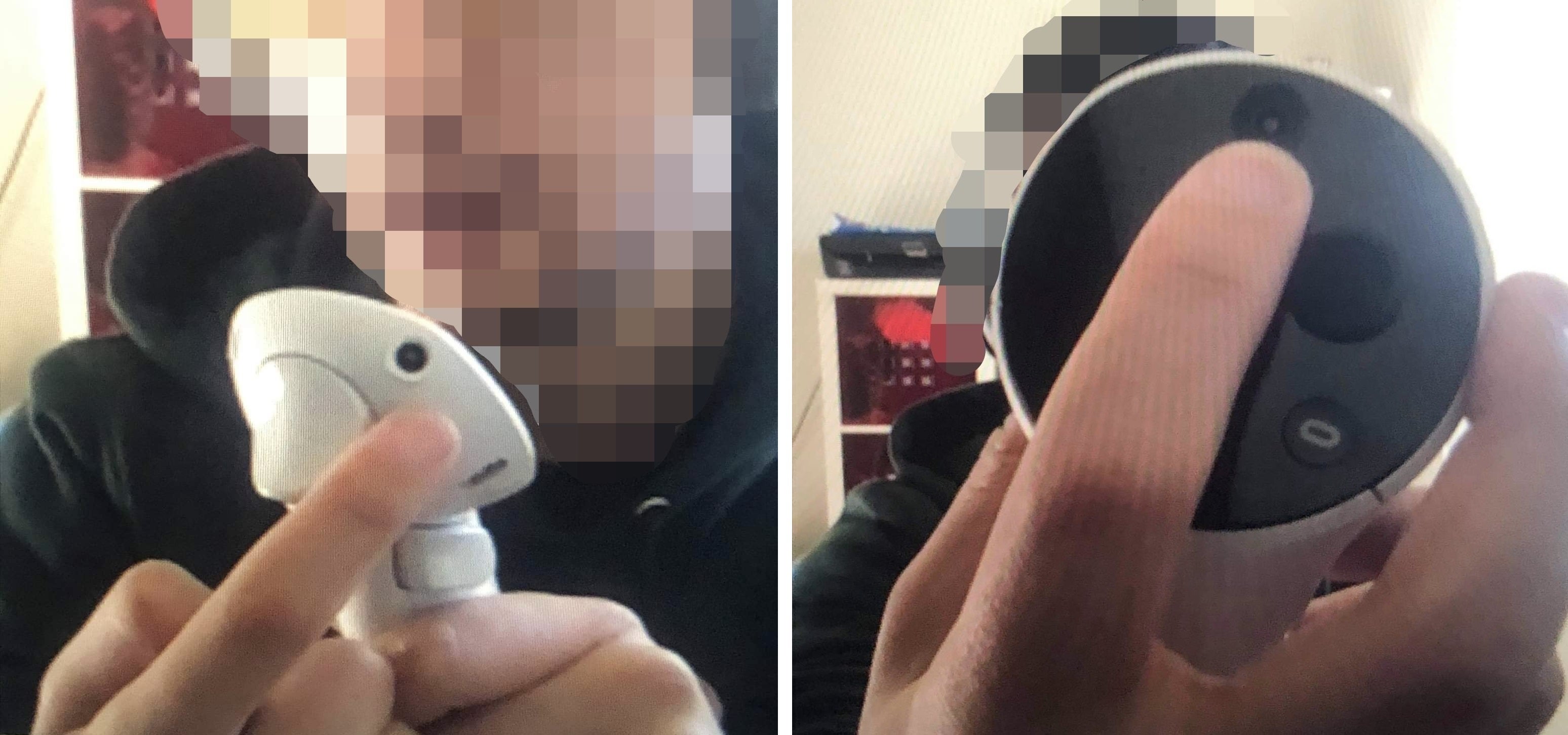 Supposed Quest 3 controller design showing what appear to be cameras; source unknown
We've seen a few alleged leaks pop up on Reddit, that potentially show us the upcoming Quest 3 controllers, but take those with a grain of salt for now. If true, then the Quest 3 controllers are indeed different from what we have on the Quest 2. While the buttons and button placement remain the same, the shape of the controllers is now simpler, without the large plastic bracelet-like ring, which contains a sensor light on the Quest 2's controllers.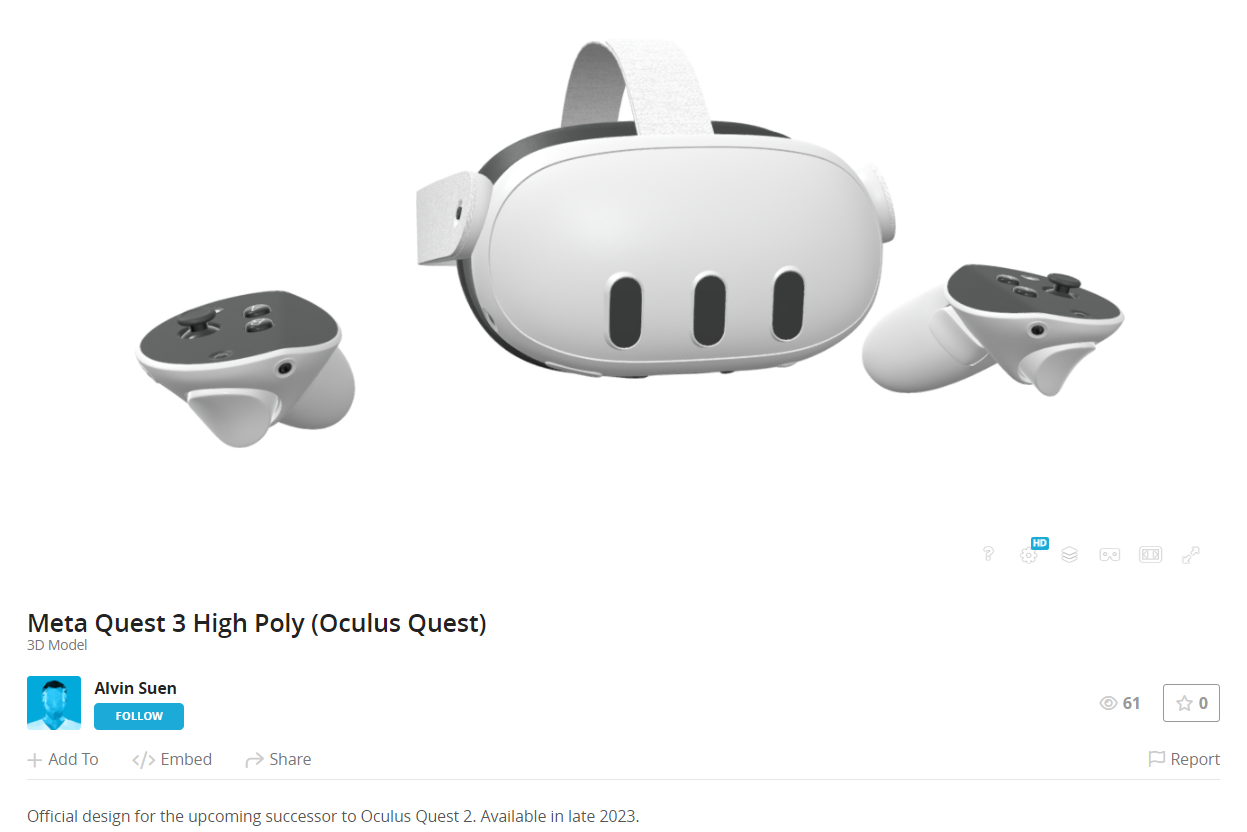 Instead of lights, the Quest 3's controllers appear to have built-in camera-like sensors for tracking, which could prove more accurate, not to mention the controlled could be lighter due to their smaller footprint. And while we don't know that for certain, it's reasonable to expect the Quest 3 controllers to use replaceable AA batteries, just like the Quest 2, instead of a rechargeable battery, which is a cost-saving measure.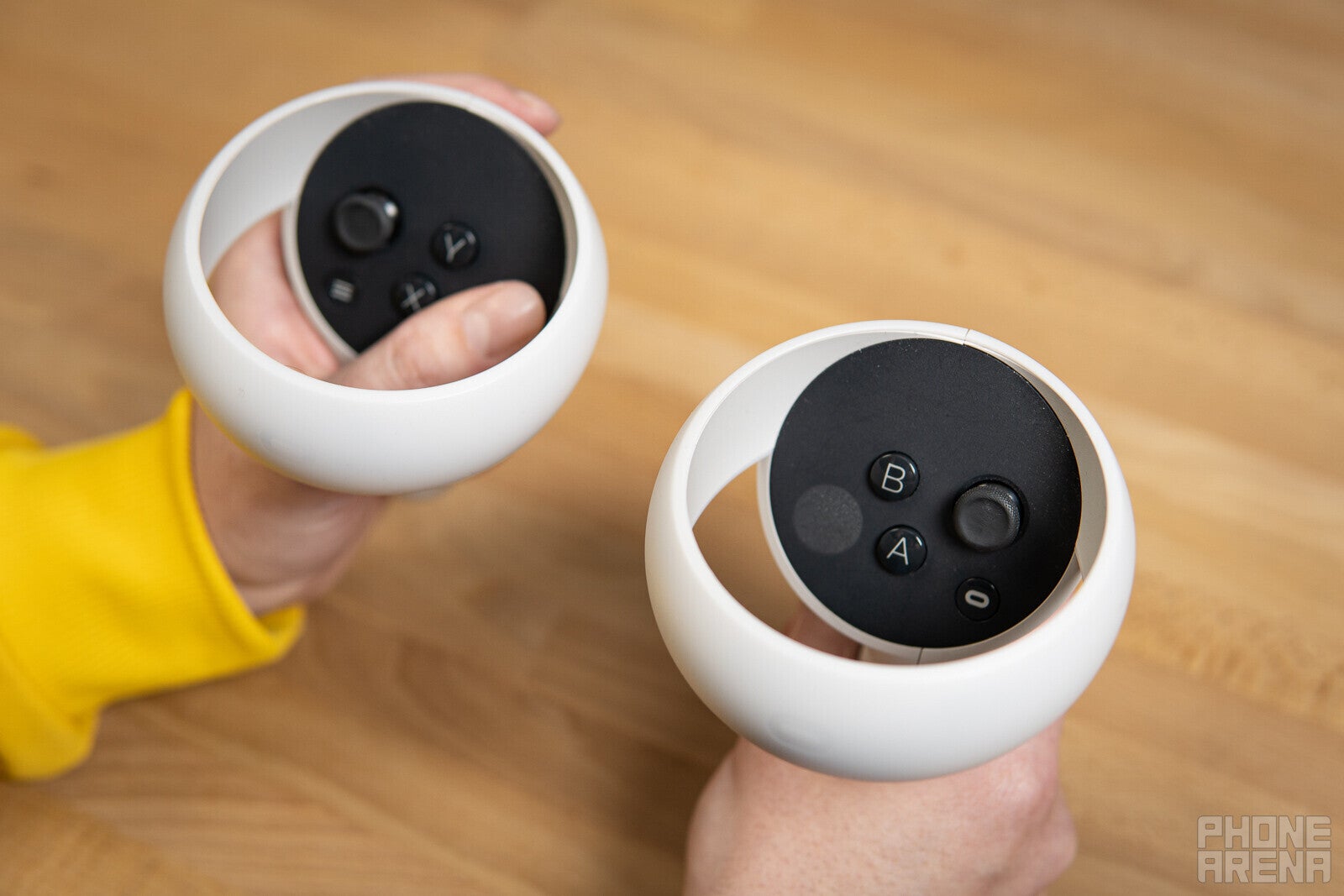 The Quest 2 controllers
As for the Quest 2 controllers, they are larger in design, do also use a single AA battery each, to function, and have the big plastic ring, which the Quest 3's controllers have apparently dropped. We also have wrist lanyards for each controller, which the user can hook to their wrists as to not throw or drop the controllers while playing a physically-intensive VR game like Beat Saber.
While not shown in the images, the Quest 3's controllers will almost certainly also have lanyard hooks, as a basic safety measure.
Audio quality
What's new in the audio front with the Quest 3 is where we've got the least information on, but what we do know is that the stereo speakers will be returning - one on each side, built into the plastic bits that hold the head strap together. The speakers will be positioned right above the user's ears, just like on the Quest 2. What we don't know with absolute certainty is whether the 3.5mm headphone jack will be returning on the Quest 3, for the user to plug their own wired headphones to, but it seems plausible that it will.
Meanwhile the Quest 2 also has stereo speakers, and they sound pretty fantastic, especially considering they don't provide any in-ear seal, and aren't even that close to the user's ears. We have reasonably loud sound, with even a hint of bass, which bodes really well for fans of Beat Saber, or many of the other great games that rely on either positional sound, or lively music, for a great experience. And yes, the Quest 2 does have a 3.5mm headphone jack, for optionally plugging in your own headphones.
Battery life and charging
While we've established that the Quest 3 will have a new charging pin connector for "wireless" (sort of, or at least "wire-free") charging, in addition to its USB Type-C port for traditional wired charging, we're yet to know if its battery will be getting larger or smaller than the Quest 2. With a faster processor, higher-res and refresh rate display, the Quest 3's battery can be expected to drain quicker, so it'll be interesting to see how Meta has dealt with this potential issue.
As for the Meta Quest 2, it has a 3640 mAh battery, which in my experience lasts anywhere between 1.5 hours and 2 hours. While that may not sound long for other types of wearable devices (or smartphones), it is more than reasonable for a standalone, untethered VR headset. And lets face it, your eyes will need a break after nearly 2 hours of VR gaming anyway.
While the Quest 2 doesn't have a charging pin connector for convenient wire-free charging, it charges via its USB Type-C port just like any Android smartphone. Charging it to 100% can take anywhere between 2 and 2.5 hours, so it's not exactly charging quickly, so here's hoping the Quest 3 has faster charging, if not a larger battery.
Quest 3 vs Quest 2 specs comparison
Specs
Quest 3
Quest 2
Display resolution
4128-by-2208 pixels
(2064-by-2208 pixels per eye)
3664-by-1920 pixels
(1832-by-1920 pixels per eye)
Display technology
LCD, single display
LCD, single display
Display peak brightness
Unknown
100 nits
Refresh rate
120Hz
72Hz, but supports up to 120Hz in some apps and games
IPD range
Unknown
56-70mm
FOV (field of view)
Unknown
~89 degrees
Storage options
256GB, 512GB
128GB, 256GB
RAM
12GB
6GB
Processor
Snapdragon XR2 Gen 2
Snapdragon XR2
Battery size
Unknown
3640 mAh
Battery life
Unknown
1.5 - 3 hrs
Charging time
Unknown
Up to 2.5 hours
Operating system
Based on Android
Based on Android 10
Weight
Unknown
501 g (1.10 lbs)
Cameras and sensors
6 cameras
1 depth sensor
4 cameras

Sound
Stereo speakers
Positional audio
3.5mm headphone jack
Stereo speakers
Positional audio
3.5mm headphone jack
Controller battery
Replaceable AA
Non-rechargeable
Replaceable AA
Non-rechargeable
Announcement date
September, 2023
September 16, 2020
Release date
October, 2023
October 13, 2020
Price
Unknown
$399.99 for 128GB of storage
$499.99 for 256GB of storage
Summary and final verdict
In conclusion, with the information we have thus far, the Meta Quest 3 is shaping up to be a significant improvement over the already-excellent Quest 2 VR headset. So it's safe to say the Quest 3 will swiftly make its way onto our
best VR headsets
list as soon as it comes out.
With an improved display, faster processor, color passthrough, a more convenient charging option, and new mixed reality features we're yet to know anything about - it will definitely be an exciting headset to get in late 2023, when it arrives.
Still, it has some big shoes to fill, as the Quest 2 remains arguably the best VR headset right now, and with the best price, even nearly 3 years later after its release. And while it has a lot of bugs to be ironed out, still, which will hopefully be rarer on the Quest 3, the Quest 2 remains super easy to recommend to anyone willing to delve into VR, for just the right price.