Google Pixel Fold release date and price speculations, expected features, and news
If you're interested in learning about the (presumably) upcoming Google Pixel Fold, you're in the right place! Here we continuously add and analyze all of the Pixel Fold leaks that are pouring in, along with the Pixel Fold rumors from reliable sources, Pixel Fold-related patents, and our own speculations.
Keep in mind that currently this is all to be taken with a grain of salt, as Google has not made any official announcements about releasing a foldable Pixel phone yet.
What even is the rumored Google Pixel Fold? Well, based on many accounts, we speculate that it's going to be Google's first competitor in the growing
foldable phone
market; a large, nearly tablet-sized smartphone that unfolds like a book, with an additional outer display the user can use when the phone's closed. Or, in short, a folding phone that resembles (and will directly compete with) Samsung's
Galaxy Z Fold 4
.
As soon as the Android 12 Beta was released back in last May of last year, we started getting reports of
foldable Google smartphone references
found inside of it. More specifically, the following Pixel phone model number – "Passport (Pixel foldable) – GPQ72".
Does this suggest Google is on its way to launch a foldable Google Pixel in 2023, possibly named Google Pixel Fold or Google Pixel Passport? It seems more and more plausible. Here's all the intel we currently have on
Google
's upcoming foldable phone...
Latest Google Pixel Fold leaks:
Google Pixel Fold release date speculations
The most recent report tells us that the
Pixel Fold could be announced as soon as May 10
, at the Google I/O 2023 developer conference, alongside the Pixel 7a. The Pixel Fold is then expected to be released by the second week of June, in two colors - Carbon (black/gray) and Porcelain (white).
Google Pixel Fold price speculations
Currently our most reliable source when it comes to the price is a claim from leaker Jon Prosser, who has said that the Google Pixel Fold will cost $1,799. If true, unfortunately the Google Pixel Fold won't be the more affordable alternative to the Galaxy Z Fold, like some were hoping for.
However, another leaker, Yogesh Brar, has more recently suggested that the price of Google's folding phone will be between $1,300 and $1,500, so for now, we can only speculate.
Google foldable phone name speculations
While "Google Pixel Fold" is now known to be the certain name for the device, previously we saw alternative names for it, such as "Google Passport", "Google Logbook" and "Pixel Notepad", appear in various leaks.
However, in November of 2022 reliable tipster Jon Prosser said that the name of this phone will be "Google Pixel Fold," and "Project Passport" was merely a codename for it at Google.
Google Pixel Fold design and display expectations
AMOLED display, 120Hz refresh rate
Most recent Google Pixel Fold renders, courtesy of OnLeaks
Before we get to the backstory of Google giving us hints that it's working on a foldable, let's talk about the recent news from FPT. Jon Prosser, the frontman for Front Page Tech claims that the name of this smartphone will, in fact, be Google Pixel Fold, and he is confident that the images above reflect the final product. In addition, that the Google Pixel Fold will be available in two colors - Chalk and Obsidian (basically white and black). The phone will have an external display with a 9.5MP punch-hole camera, along with a 9.5MP camera in the top right of the bezel that surrounds the internal tablet-sized screen. This is undeniably similar to the Samsung's Galaxy Z Fold series, and in fact, Samsung is said to be the company making those displays for Google.
There doesn't appear to be an under-display fingerprint sensor or an under-screen camera, so we can expect a side-mounted fingerprint sensor and holepunch selfie cameras instead, as mentioned earlier.
Now back to previous leaks and what led up to this...
We've been seeing Google patents suggesting the company is looking into making a foldable phone as early as 2019. Back in May of that year,
Google filed a folding phone patent
, although it was for a clamshell-design phone akin to the Galaxy Z Flip.
More recently, a
patent application
dated April 2020 showed that Google is also considering a book-like phone design similar to the Z Fold. The patent was particularly focused on the folding phone's hinge, suggesting that Google was already hard at work into refining it.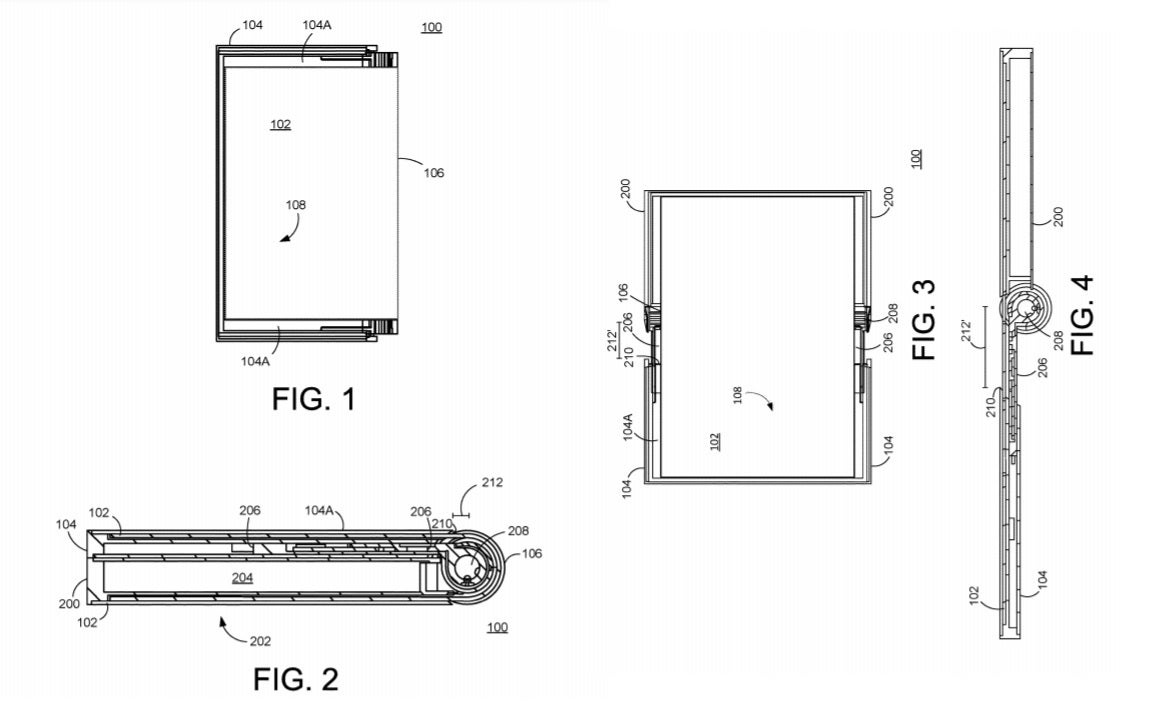 Different angles of a foldable Google Pixel phone (patent images)
Based on the
Pixel 5
design, we have the following concept renders courtesy of YouTuber
Waqar Khan
. As cool as they look, note that those likely don't represent the design of the final Pixel Fold. We'll have actual design photos for you here as soon as they become available, so stay tuned!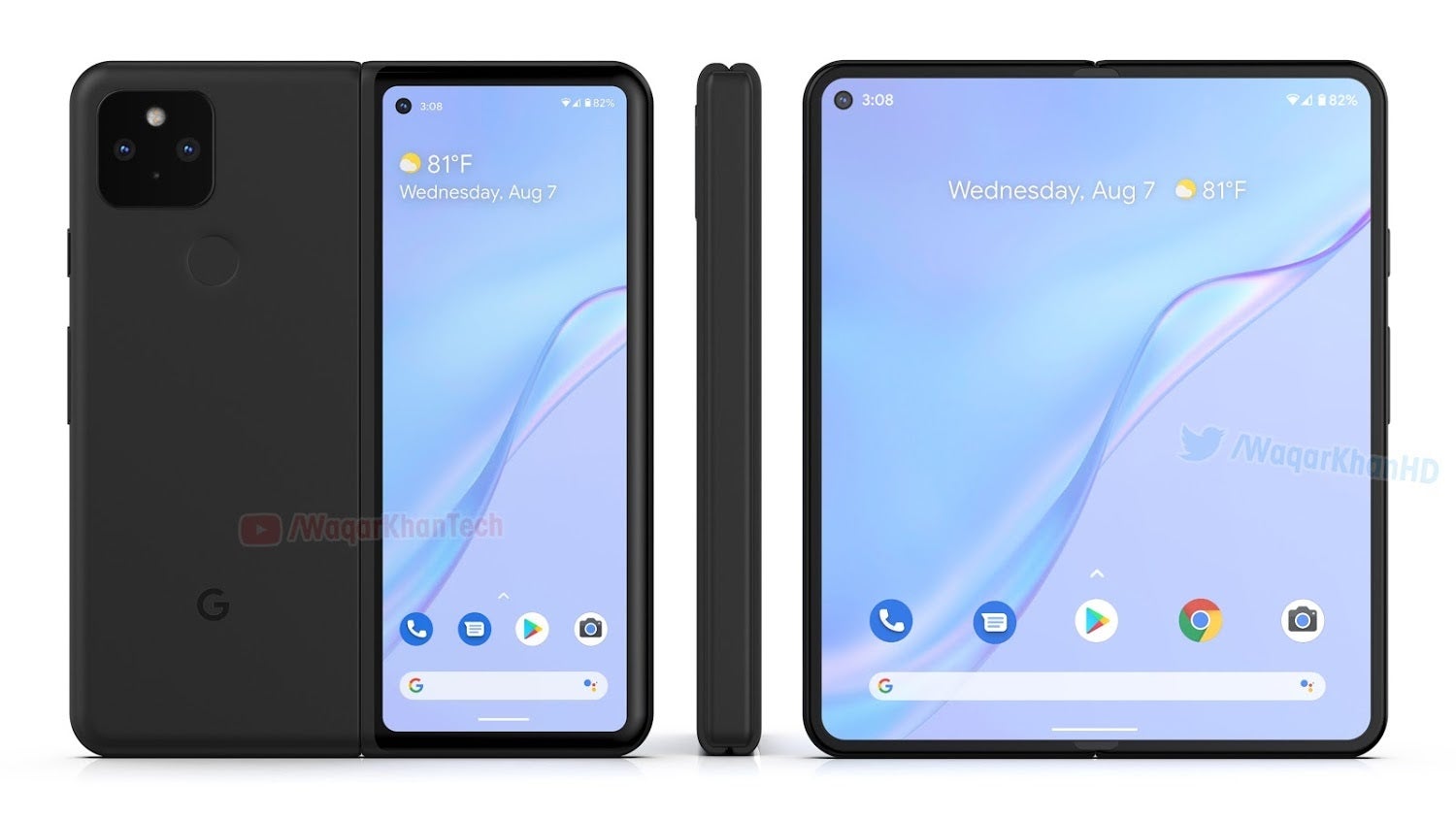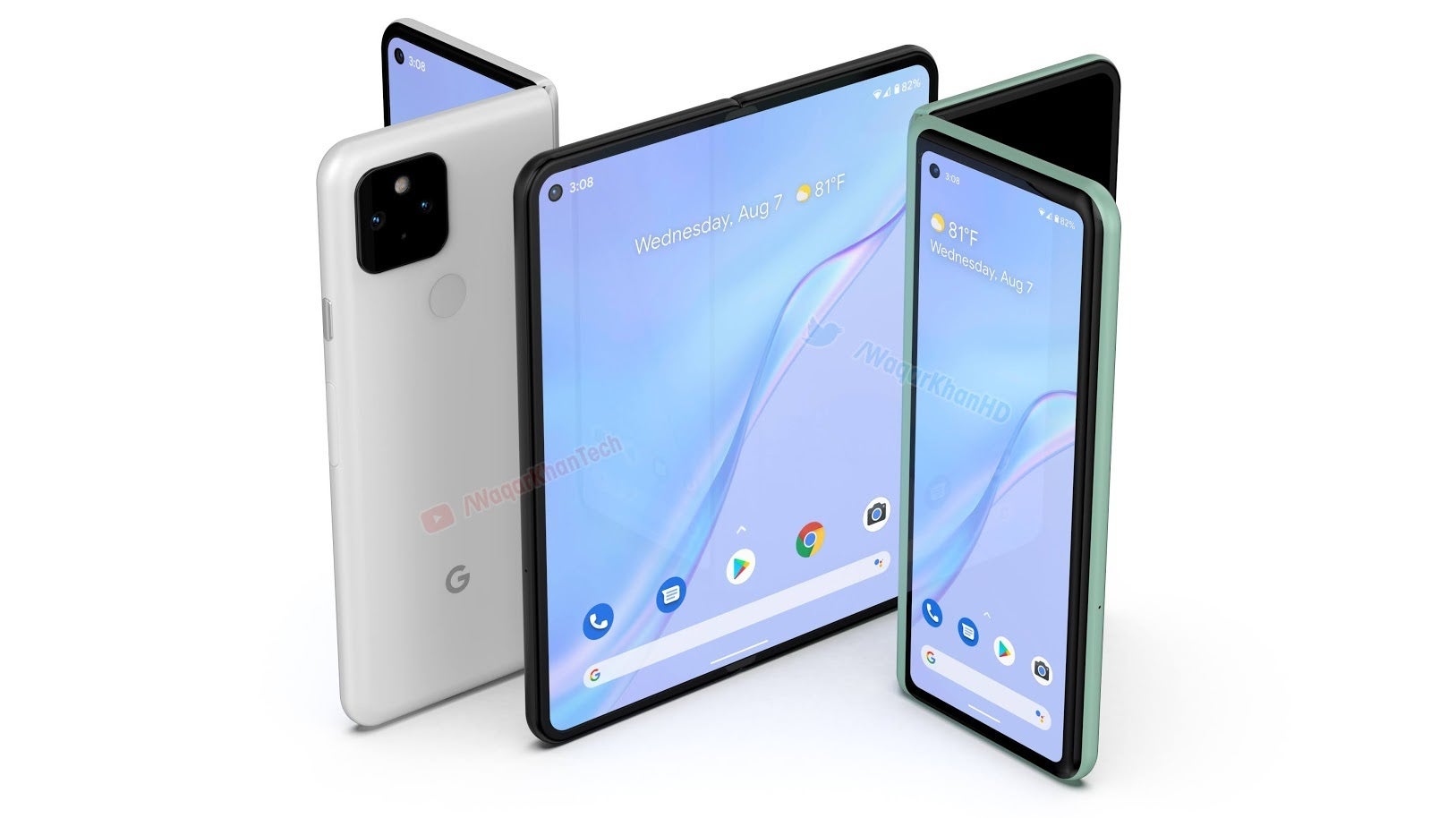 Google Pixel Fold concept renders
As for the screen, the Google Pixel Fold has been said to feature a flexible 7.6-inch OLED display produced by
Samsung
. That display will be able to fold in half inwards, similarly to the likes of the Galaxy Z Fold. And just like it, we expect the Google Pixel Fold to have a smaller, secondary outer screen that will be more immediately accessible to the user.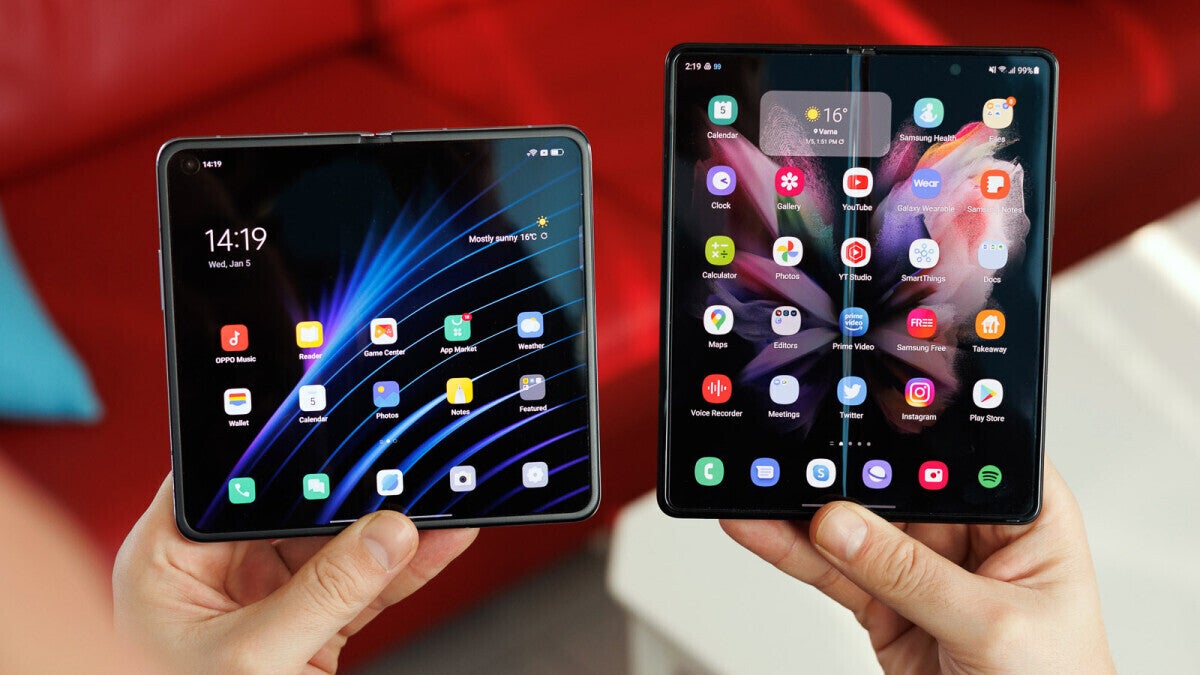 Oppo Find N (left), Galaxy Z Fold 3 (right)
In early January of 2022 an animation discovered in the Android 12L beta hinted that the Pixel Fold might actually look closer to the
Oppo Find N
than the Galaxy Z Fold 3, meaning it might sport a more square-ish, wider display.
Google Pixel Fold features and software expectations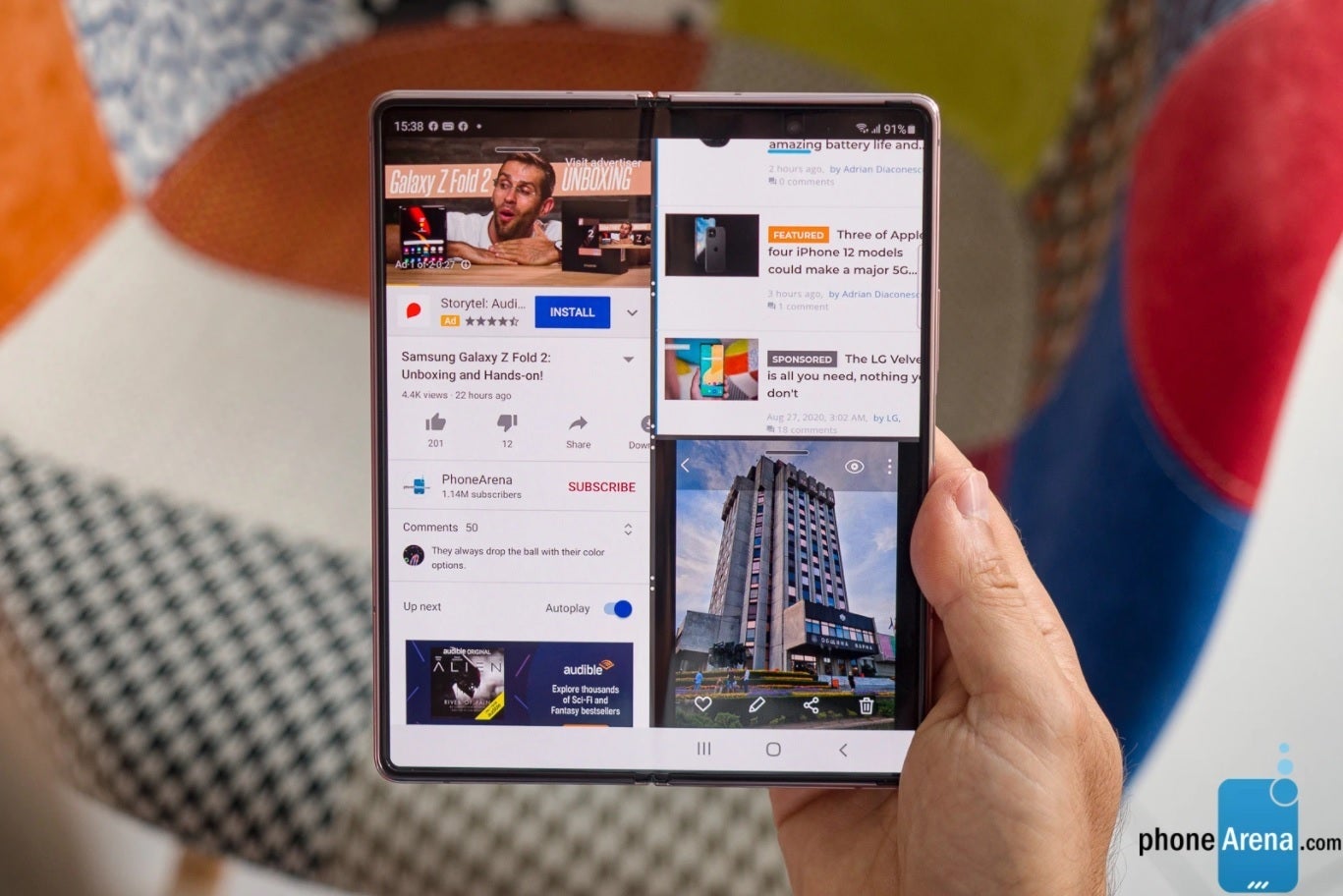 Multitasking on the Pixel Fold might be similar to the Galaxy Z Fold 2 experience (shown here)
We speculate that the Google Pixel Fold will be running Android 12. Based on the Android 12 Beta, we expect it to bring features specific to folding phones, likely with a focus on multitasking, so that users can take full advantage of their big displays.
Samsung's Z Fold 2 for example supports up to three apps in split-screen, with even more in windowed mode. We expect similar features from Android 12 for the Pixel Fold.
Android 12 also brings new user customization features, improved performance, privacy, security and more. See our
Android 12 preview
for more details about Google's latest software.