Huawei Enjoy 60 to be unveiled next Thursday with 14nm Kirin chip and a 6000mAh battery
21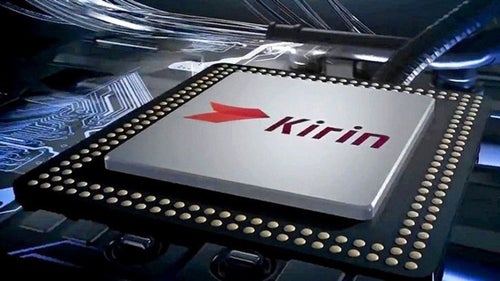 We've already told you that
Huawei's next flagship line will be introduced on March 23rd
. That is when the beleaguered Chinese manufacturer will officially announce the photography-centered P60 series consisting of the P60 and the P60 Pro. On that same date, which happens to be next Thursday, Huawei will also unveil its new foldable, the Mate X3. But what you might not know is that the Huawei Enjoy 60 mid-ranger will also be previewed on the same day.
Huawei has
released a poster on its verified Weibo account
promoting the phone and the event, and according to
MyFixGuide
, there will be three color options: Magic Night Black, Dawn Gold, and Ice Crystal Blue. Hmm. What will happen to the smartphone industry when it runs out of names for different hues? This might occur before Moore's Law is repealed (and yes, that's a joke. Moore's Law is not a real law but is an observation that the transistor count on chips doubles every other year).
The Huawei Enjoy 60 will reportedly be equipped with a 6000mAh battery

Let's get back on track. Based on rumored specs, the Enjoy 60's claim to fame will be the large 6000mAh battery that will be in charge of keeping the lights on. It's a huge battery but it will charge at a rather pedestrian speed of 22.5W. The phone will sport a 6.75-inch LCD display with an HD+ resolution of 720 x 1600 and a basic 60Hz refresh rate. There is a water-drop notch housing the front-facing 8MP selfie snapper. The HD display and the large battery should result in amazing battery life for the phone.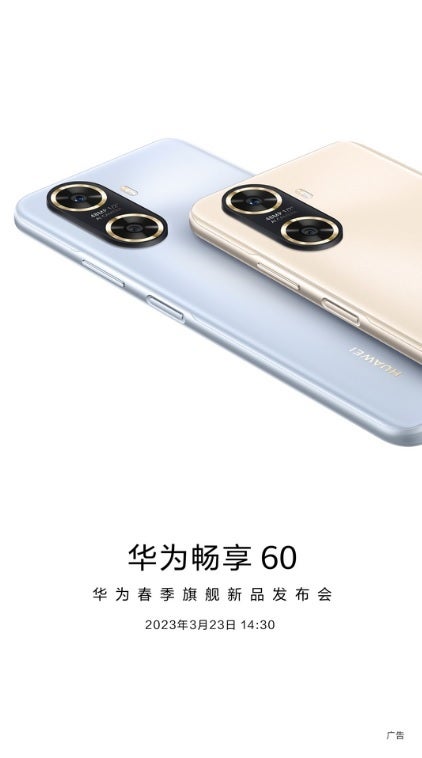 Huawei promotes next Thursday's unveiling of the Enjoy 60
Yes, boys and girls,
Huawei
is using a home-grown Kirin chipset (designed by its HiSilicon unit) to power the Enjoy 60; don't get too excited. As you know, thanks to U.S. export rules, foundries using American technology cannot ship chips to Huawei although the company did get permission to use crippled Snapdragon SoCs that do not work with 5G signals. And there is a chance that access to those chips is in jeopardy. For the Enjoy 60, Huawei will use the older Kirin 710A
which we first wrote about nearly three years ago
.
In an era where Apple is expected to power its premium iPhone 15 models this year with 3nm chips and the Huawei P60 Pro could be driven by the 4nm Snapdragon 8 Gen 2 4G, the Kirin 710A is produced by China's largest foundry, SMIC, using its 14nm process node. The chip houses approximately 5.5 billion transistors compared to what will be over 20 billion for the Apple A17 Bionic or the 16 billion employed by the Snapdragon 8 Gen 2 SoC. The higher a chip's transistor count, the more powerful and energy-efficient it is.
The Kirin 710A features four Cortex-A73 Performance CPU cores running at 2.0GHz and four Cortex-A53 Efficiency cores running at 1.7GHz. In other words, don't expect the Enjoy 60 to be a powerhouse. And this will be reflected in the pricing of the two variants. One, with 8GB of RAM and 128GB of storage, is expected to be tagged at the equivalent of $190. The other model, with 8GB of RAM and 256GB of storage, will cost the equivalent of $220.

The Huawei Enjoy 60 will feature a 48MP primary camera on the back along with a 2MP depth sensor

The Enjoy 60 will have HarmonyOS 3.0 pre-installed. This is not the latest version of Huawei's home-grown operating system as the P60 line will have HarmonyOS 3.1 running the show. The phone will have a side-mounted fingerprint scanner integrated into the lock screen button and on the back is a 48MP camera with a 2MP depth sensor.
There had been rumors that Huawei was going to use a Kirin chip on an upcoming phone and last summer the rumor mill churned out a doozy. That rumor said that Huawei was going
to use a 14nm Kirin 9100 chipset to power the P60 line
. 14nm is the only process node that SMIC can use to produce smartphone chips right now, especially since it is unable to obtain the extreme ultraviolet lithography machine (EUV) from Dutch firm ASML. That machine etches circuitry patterns on wafers that are thinner than human hair.
With tens of billions of transistors inside cutting-edge chips, the only way to have the circuitry etched properly is to own a EUV machine and ASML is banned from shipping them to China. SMIC was able to produce 7nm chips without a EUV, but these were for cryptocurrency mining and not as complex as smartphone SoCs.