Apple's new ad for the AirPods Pro 2 uses cool visuals to promote the earbud's noise-controls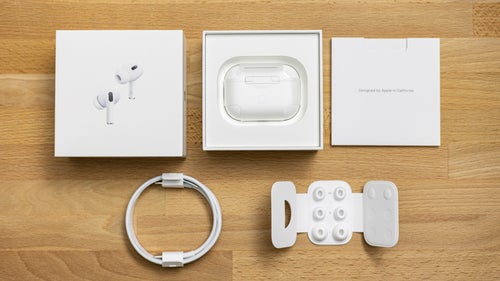 This week
Apple
dropped a new ad for the AirPods Pro 2. The second-generation version of Apple's premium wireless earbuds
was released last September
with the company saying that it offered 2x better Active Noise Cancellation (ANC) to remove distracting background noises that can interfere with a user's music or phone calls. With Spatial Audio and dynamic head tracking, an AirPods Pro 2 user will feel as though sounds are coming from all around him/her.
The new ad for the AirPods Pro 2 focuses on the Active Noise Cancellation and the Transparency Mode which allows the user to hear ambient noises. There are times when it is important to know what is happening around you. For example, if you are walking the streets of the city, you might want to be able to hear sirens, car horns, or other noises that indicate that a moving vehicle is bearing down on you and is about to enter your personal space.
The AirPods Pro 2 blocks distracting ambient sounds

The video, titled "The New AirPods Pro, Quiet the noise" starts with the song "Where is my Mind?" by Tkay Maidza playing in the background. Things that would normally create plenty of noise such as a jackhammer, a garbage truck, heavy traffic, a marching band, and a barking dog are all floating off the ground to symbolize that the AirPods Pro 2 ANC is blocking all of these annoying and distracting sounds.
Walking underneath all of these noisy things is our heroine, a young woman who is wearing the AirPods Pro 2 earbuds. Moving her head to the sound of the song she is listening to, she reaches a street corner in the city and decides that it is now time to disable Noise Cancellation and enable Transparency Mode so that she can hear what is going on around her. Doing this sets off a chime that you can hear in the video.
Once she switches between noise-control modes, all of those noisy things that were floating in the air crash down to earth, and all of a sudden our heroine can hear the usual city noises through her AirPods Pro 2 earbuds. After purchasing juice from a street cart vendor, the AirPods Pro 2 user decides that she's had enough and switches noise-control modes again which turns on Noise Cancellation and turns off Transparency Mode. All of the people and things responsible for creating the loud noises once again float away.
Transparency Mode can help you hear when a fast-moving vehicle is bearing down on you

As the ad comes to an end, our star is walking through the city hearing nothing but the song she's listening to using her AirPods Pro 2 earbuds. The tagline? "Up to 2x more Active Noise Cancellation. The AirPods Pro 2 delivers up to six hours of listening time with a single charge. With the charging case, users can get up to 30 hours of listening time. Speaking of the case, charging the earbuds for 5 minutes in the case provides around 1 hour of listening time or around 1 hour of talk time.
If you are a card-carrying member of the Apple ecosystem club and want to listen to your tunes and calls over your earbuds without having to listen to ambient sounds, the AirPods Pro 2 is for you. And we can't stress enough the importance of being able to switch back to Transparency Mode because, as the ad shows, there are times when you need to know what is going on around you.
The AirPods Pro 2 has IPX4 protection from sweat and splashes. The earbuds cannot be submerged in water and there is no protection from dust. The AirPods Pro 2 features Apple's new H2 chip. The charging case contains a U1 Ultra-wideband chip which can help iPhone 11 and later models find a missing AirPods Pro 2 charging case.
The ad runs for 68 seconds which means that it will probably be whittled down to a 60 second version and a 30 second spot. You'll probably see it this weekend when watching your favorite sporting events on television.